Caitlin Johnstone describes the slow, suffocating strategy used by the side with all the resources and all the time in the world, the side which knows it can just relax and wait for the other side to starve to death.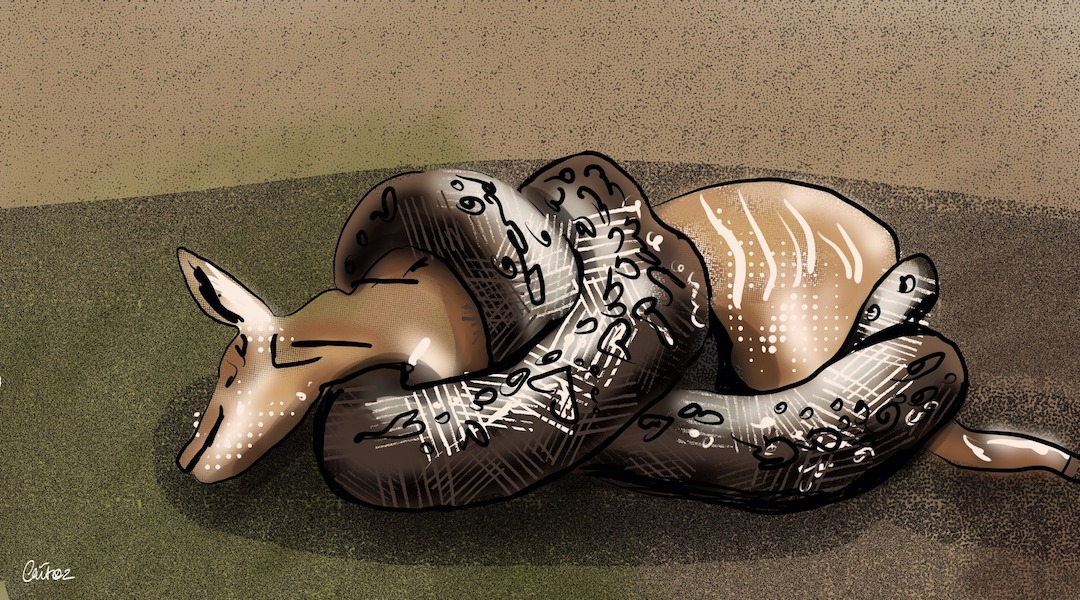 By Caitlin Johnstone
CaitlinJohnstone.com
Forbes has published two back-to-back articles about the analysis of retired Navy captain and political scientist Bradford Dismukes titled "To Defeat China In War, Strangle Its Economy" and "If Russia Invades Europe, NATO Could Sweep The Seas Of Russian Merchant Ships."
The articles were authored by a man named David Axe, who is my new favorite small-time war propagandist because he's so desperate to be recognized for his imperialist stenography that he often approaches his spin jobs in an informatively unskillful and ham-fisted way. The best one I've found so far is this 2013 piece about the time he spent with the "rebels" of Syria, who he takes great pains to assure us are not terrorists or extremists but brave freedom fighters who'd successfully "liberated" large swathes of Syrian territory.
U.S. naval strategists are openly talking about the use of a sea blockade to "strangle" China's economy in the event of war.

In case you were wondering why the U.S. is fixated on controlling access to the South China Sea. https://t.co/dUWfY6Go0Z

— Qiao Collective (@qiaocollective) August 25, 2020
Each of the two Dismukes articles focus on how the same military strategy can be employed against the first- and second-most powerful nations which have resisted absorption into the U.S.-centralized power alliance, namely China and Russia respectively. They explain how "a coordinated effort by the whole of the U.S. government and its closest allies" can be used to "strangle" those nations economically via blockades which cut them off from trade and resources should the time come for an aggressive confrontation, thus minimizing the need for direct military combat.
"Cutting off China from its trading partners and sources of oil, natural gas and other resources could be the best, and least costly, way for the United States to defeat China in a major war," Axe explains.
"In wartime, the U.S. and allied fleets could blockade Russian sea trade, putting a choke-hold on the Russian economy that could force Moscow to end the war on terms favorable to Washington and its friends," he writes.
Unspoken by Axe and Dismukes is the fact that both Russia and China are nuclear-armed nations, so direct hot warfare is something the U.S. power alliance would want to avoid anyway.
Indeed, the articles present a vision for confrontation with Russia and China that is not just realistic but probable, and not just probable but currently underway. This is exactly the reason the empire-like network of allies loosely centralized around the United States has been so forceful about controlling crucial resources like oil on the world stage; it's not so that the US can use the oil itself, it's so it can control who will have access to it. It's also why they've been working to surround both China and Russia militarily via military bases and NATO expansionism.
How To Understand All This China Stuff

"To understand what's going on with China and why the 'news' media keep punching you in the face with stories about how awful it is, you really only need to grasp two basic points:"https://t.co/s9oT8nxPY6

— Caitlin Johnstone ? (@caitoz) May 21, 2020
These are the chess pieces that have been put in place during the slow-motion third world war between the U.S.-centralized empire and the governments which haven't yet been absorbed into it. In order to avoid nuclear conflict, the imperialists know they've got to be patient and strategic, which they've learned can lead them to victory from past experience in the previous Cold War against the Soviet Union. The fact that they're imperiling the life of every organism on our planet in the meantime is for them mostly a non-issue.
This is how the U.S.-centralized empire prefers to kill now. Not like a tiger, pouncing on its prey with old-school ground invasions and ripping out the jugular, but more like a python: slow, patient strangulation and suffocation.
That's what you're seeing with the murderous starvation sanctions that have been placed on Iran and Venezuela. With Yemen, where in addition to deadly blockades the Saudis have been deliberate targeting farms, fishing boats, marketplaces, food storage sites and cholera treatment centers with U.S.-assisted airstrikes. With North Korea, where boats full of dead people have been washing up on Japan's shores because fishermen get stuck out at sea trying to catch food since they can't afford enough fuel to get back to shore, which former Secretary of State Rex Tillerson attributed to U.S. sanctions. With Gaza, where people are being deprived of an adequate amount of nutrients due to an Israeli blockade designed to "put the Palestinians on a diet."
It's a slow, suffocating strategy that only works if you're the side in power, the side with all the resources and all the time in the world, the side which knows it can just relax and wait for the other side to starve to death. Not with the "shock and awe" invasions of the Bush era, but with sanctions, blockades, coups, psyops, CIA-backed uprisings and the arming of opposition forces like David Axe's "rebel" friends.
The modern US imperial war machine kills more like a python than a tiger, placing less emphasis on the full-scale ground invasions of the Bush era and more on slowly suffocating the life out of targeted nations using sanctions, blockades, coups, psyops and CIA-backed uprisings.

— Caitlin Johnstone ? (@caitoz) August 9, 2020
This is one of many reasons you can be dismissive of any Donald Trump supporter who defends their president by arguing that he "hasn't started any new wars." What they mean is he hasn't launched any tiger-style old school ground invasions. He's still attacking and killing with python-style sanctions and blockades and imperiling the world with dangerous new Cold War escalations. He's still continuing the slow-motion third world war. And we may be certain that if Joe Biden wins he will do the same.
This is important to be aware of, because it changes what it means to be anti-war. We don't have to just oppose direct hot war conflicts like the one we were afraid earlier this year might erupt between the U.S. and Iran (which could still happen); we also need to aggressively fight the new strangulation-style warfare that is being increasingly favored by the US-centralized empire.
When it first rose to power with the Bush administration the neoconservative ideology of doing whatever it takes to ensure continued U.S. unipolar hegemony was widely criticized. Now it's the bipartisan beltway consensus, and if you question it you're smeared as freakish and suspicious. You never even hear the word neoconservative or neocon anymore in mainstream U.S. discourse, not because it went away but because it became the normalized default mainstream worldview.
And while all these imperialist psychopaths are waving literal Armageddon weapons around in the name of an imaginary god named unipolarism, we're also hurtling toward ecosystemic collapse and any number of other potential Armageddon-level events. We've got to turn away from this trajectory as a species and begin collaborating with each other and with our ecosystem if we are to turn this disaster around.
Caitlin Johnstone is a rogue journalist, poet, and utopia prepper who publishes regularly at Medium.   Her work is entirely reader-supported, so if you enjoyed this piece please consider sharing it around, liking her on Facebook, following her antics on Twitter, checking out her podcast on either Youtube, soundcloud, Apple podcasts or Spotify, following her on Steemit, throwing some money into her tip jar on Patreon or Paypal, purchasing some of her sweet merchandise, buying her books "Rogue Nation: Psychonautical Adventures With Caitlin Johnstone" and "Woke: A Field Guide for Utopia Preppers."
This article was re-published with permission.
The views expressed are solely those of the author and may or may not reflect those of Consortium News.
Please Contribute to Consortium News
on its 25th Anniversary
Donate securely with
PayPal here. 
Or securely by credit card or check by clicking the red button: