Fears of a major war in the Middle East exploded Thursday night with the U.S. assassination of arguably the second most powerful man in Iran.
By Joe Lauria
Special to Consortium News
The U.S. assassination of Iranian Revolutionary Guards Corps Commander Maj. Gen. Qassim Suleimani at Baghdad airport on Thursday night has increased fears of a major Middle East war breaking out between Iran and the United States.
The Pentagon confirmed the attack and said President Donald Trump directed it.  Trump ominously added to the extreme unease with Iran with a tweet after the U.S. drone airstrike on Suleimani's car.
— Donald J. Trump (@realDonaldTrump) January 3, 2020
The Pentagon said: "General Suleimani was actively developing plans to attack American diplomats and service members in Iraq and throughout the region. General Suleimani and his Quds Force were responsible for the deaths of hundreds of American and coalition service members and the wounding of thousands more."
Suleimani had been head of the Quds Force for 23 years. The Pentagon allegation is that he directed attacks on U.S. military during the U.S. illegal occupation of Iraq after its 2003 invasion. Suleimani was one of the men most responsible for defeating ISIS in Iraq and Syria.
The sudden escalation of unpredictable tension brought about by this assassination came just days after the U.S. struck an Iranian-backed militia, which is part of the Iraqi military, killing more than 20 last week in Iraq.  The U.S. said it was in retaliation for a rocket attack the group allegedly carried out earlier in Kirkuk that killed a U.S. contractor.
In response, protestors breached the gates of the U.S. embassy in Baghdad, burned a building and remained inside for nearly two days before a re-enforcement of U.S. marines teargassed them off the embassy grounds.  While that increased tensions with both Iran and Iraq, which condemned the U.S. air strike on the militia group, the killing of Suleimani brings the crisis into dangerous new territory.
With Suleimani killed by the US, it is extremely difficult to see how this will not escalate into full scale war.

Very hard seeing Iran not retaliating, whether directly or indirectly, whether now or later.

This is going to be inflame the region…
>>

— Trita Parsi (@tparsi) January 3, 2020
Spoke to a very knowledgeable person about what Iran's response to Soleimani's assassination might be. This would be the equivalent of Iran assassinating Petreus or Mattis, I argued.

No, he responded, this is much bigger than that…

— Trita Parsi (@tparsi) January 3, 2020
Impeachment and Indictment
The assassination comes after Trump was impeached and Israeli Prime Minister Benjamin Netanyahu was indicted last year. Both are facing difficult re-election campaigns in 2020 and have long portrayed Iran as the greatest enemy of Israel and the United States.
While Trump last year resisted neoconservatives in his administration, particularly then National Security Adviser John Bolton, in beginning a war with Iran (with just "ten minutes to go") Trump's calculus appears to have changed with the ordering of Suleimani's assassination. 
Though he dismissed the anti-Iranian hawk Bolton, both Secretary of State Mike Pompeo and Netanyahu still have his ear on Iran. What has changed politically was his impeachment and impending trial in the Senate ahead of November's presidential election. Trump clearly understands the value of military conflict to shield a politician in trouble.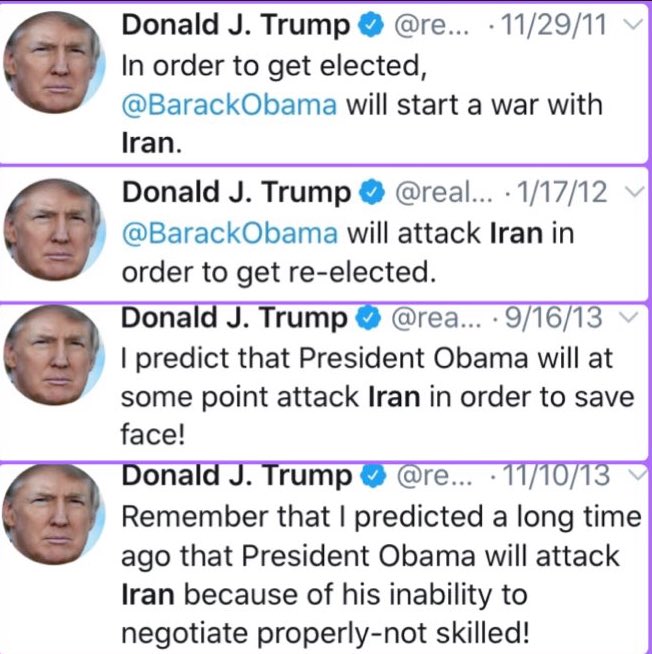 As did Bill Clinton: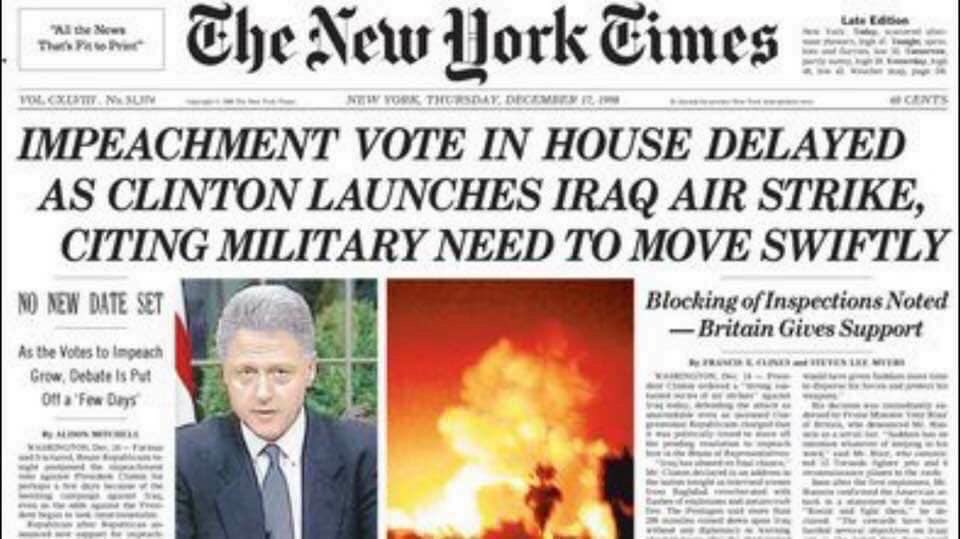 Joe Lauria is editor-in-chief of Consortium News and a former correspondent for The Wall Street Journal, Boston Globe, Sunday Times of London and numerous other newspapers. He can be reached at [email protected] and followed on Twitter @unjoe .
Please Donate to the Winter Fund Drive.